This post will explain the 8-week Ingenious program and provide you with all the details you need to run the program in your classroom.
---
About the Ingenious Program
The goal of this program is to help your students get excited about doing and thinking about science. As they progress through the program, they will gain valuable critical and analytical thinking skills, as well as gaining confidence tin their ability.
Below, I will outline several aspects about the program to help you get familiar with it to make you feel comfortable leading classes. Below, I will discuss:
How to use the Ingenious program
Logging in for Teachers
Logging in for Students
Navigating the eWorksheets
Using the apps
Conclusion
Here's a short video that explains each of the dashboard aspects:
---
How to use the Ingenious program
The Ingenious Program is extremely flexible. I use the same apps and games with my University students and I have led numerous incursions with students from Years 3-10. Like one of the parents from our program mentioned, the Ingenious Program is very much like a Disney movie – there is something for everyone.
Because of this flexibility, the Ingenious Program can be used in class in real time, or can be used during online learning with either synchronous or asynchronous learning, and can also be assigned as homework. The way you use the program is completely up to you. The only thing I strongly suggest is that you complete the 8-week program in a single term. It should take approximately 1 hour, with younger students taking a little longer. As such, you can easily run each lesson once a week. This is how I run the homeschooling version of this course.
In terms of requirements, students will need access to a computer and a mobile device. Students will need their own computer so that we can keep track of their answers and you can see their progression through the term. Students can work in groups with mobile devices. Between 3-5 students per group works well.
---
Logging in for Teachers
You can log into your Arludo Dashboard at my.arludo.com. The dashboard will hold all your eWorksheets. This can be found by clicking on 'worksheets' in the upper right hand corner of your dashboard.
Once you click the worksheets button, you'll see a collection of your worksheets like in my dashboard below. Yours should only have 10 worksheets – An introduction and conclusion worksheet and the 8 experimental worksheets.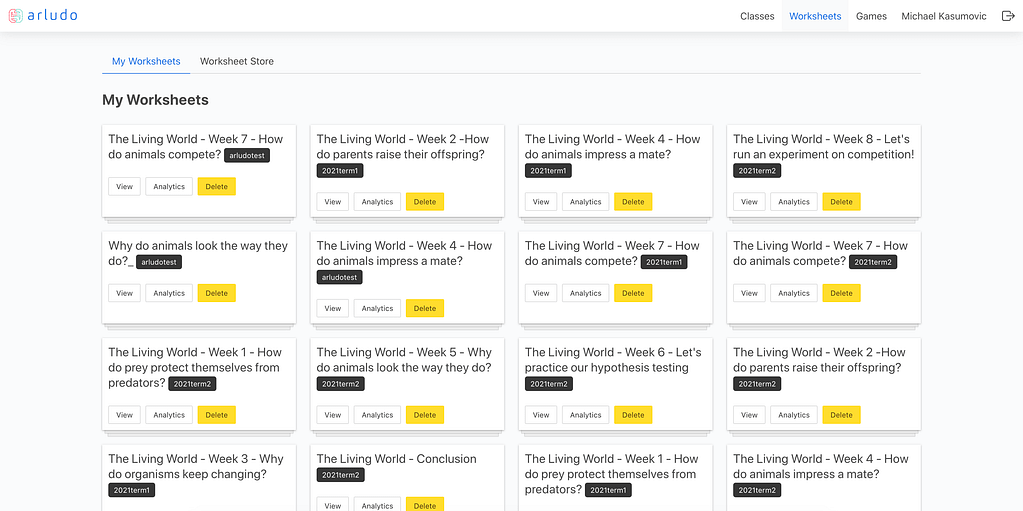 If you press the 'view' button, it will open the eWorksheet and will look like this:
This is the first thing any student sees when opening the worksheet. You can now copy the link in the browser and share it with your students in any way you wish – e.g., email, Google Classroom, etc. Each student can use the same link. To start, all students need to do is enter their Arludo ID – more on that later.
Heading back to your dashboard for a second, if you press the 'Analytics' button, that will take you to the analytics dashboard.
This is where you can explore your students' answers either by looking at the answers of each student, or by looking at the answers to each question. This is updated every time you press the refresh button on your browser. As such, you can use it to explore how your students are answering questions in real time.
This is the entire dashboard. We've tried to make it as straightforward as possible,. The one thing I will highlight is that there is no way you can erase any data. As such, don't be afraid to press any buttons. You can't do any harm 🙂
---
Logging in for Students
To understand how students log in, let's head back to the main page from the worksheet.
All students need to do to log in is enter their Arludo ID. This is something that either you or the students create for them and should not be their real name. We at Arludo take privacy extremely seriously and we believe that no identifiable learning data should be stored for any student. As such, we have devised a way for students to log in while maintaining their anonymity.
Prior to starting the program, we ask that each of your students come up with their own alias they are comfortable with – this will become their Arludo ID. That means that Arludo will only store their aliases and it is their alias that shows up on the Teacher Dashboard. As such, we suggest that you write down each students' alias and match it to their real name either on a piece of paper or a spreadsheet. This way, their privacy is completely ensured.
Your students will use the same alias to log in each week. This way, there is also no need for passwords.
---
Navigating the eWorksheets
Once students enter their alias, they will enter the worksheet. If you are using the worksheet in class, then you can also bring the worksheet up on a teacher's computer/smartboard/projector that will allow you to progress through the worksheet with the class. To enter your own worksheet, you can enter your initials or your own alias.
The benefit of having the worksheet at the front of the class is so that everyone can follow along and also so that you can play the YouTube videos for the class when needed. As YouTube is blocked by most schools, you will have to watch the videos through a teacher's computer.
This is what the worksheet looks like when you first begin:
At the top, you will see the title of the worksheet and also the class code. This is the class code that your class should use to log into the app when asked. More on this below.
When navigating through the worksheet, please remind your students to only use the page navigation tabs within the worksheet. If you refresh the worksheet or use the browser buttons, then the worksheet will fresh and the data will disappear from the sheet. But don't worry, the data is still saved.
This means if a student accidentally refreshes the page, they can just start on the next question. No need to input their answers again. All the answers are saved once a student presses the submit button. So even if they disappear from the worksheet because of a refresh, the answers are still in our database.
Each graph also has a little refresh button in the bottom left hand corner. Only use this button to refresh the figure.
If you don't see the little refresh button, just hover over the graph and scroll down. It's just hidden within the window.
As long as students use the buttons within the worksheet to navigate, there won't be any issues. And even if they forget, they can just re-enter the worksheet and start where they left off.
---
Using the apps
All the apps are straightforward to use, free to download, and collect no personal or private information. The only things the apps share are the science data that students collect.
f students are using their own devices for the experiments, then there is an explanation within the worksheet of which game to download and where it can be found.
If you are using school devices, then you may need to pre-install the apps. Here they are in order of the program:
Xenon Crowe
Hungry Birds
Eat Prey Live
Cha Cha Island
Spinder
Blue Steal
Reservoir Crabs
After opening the app, students are reminded to enter their class code and their alias.
But it's always a good idea to remind them the first few times as they are often excited to be playing a game for science. Once they enter their class code and their Alias, they are ready to go!
---
Conclusion
I really want to highlight here that students easily take control of their learning within this worksheet. They understand the internet and YouTube videos well, and they know how to use apps and games. I think you'll find that your students will be fine with everything here.
The only thing I suggest is that you have fun. I know that may sound strange, but I've designed this program as an opportunity to explore the living world. If you're willing to explore these new worlds with your students, I know wonderful things will happen.
Finally, I have created a short survey with 3 questions (1 multiple choice, and 2 short answer). I would really appreciate it if you could complete this survey after each lesson. This will help me improve the program for students and teachers. The survey can be found here: https://forms.gle/N3phyb7NMrRzBPYy5
Have fun!