Battery Low teaches cutting-edge science in new and exciting ways. Join the Arludo team and special guest scientists as they uncover the science and technology behind your favourite games.
Each month, meet a new scientist as they play a different game and explore a new topic – from why we fear snakes and crocodiles, to how you can harness your creativity!
Join the Twitch livestream and participate in interactive science experiments online.

Recommended for high school students and young adults.

Upcoming episodes will feature science experts from the Australian Museum.
Episode 3: The Science of Fear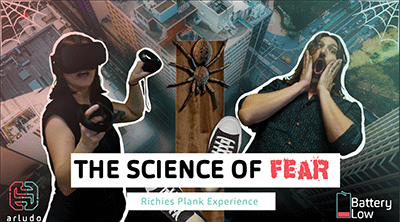 Heights. Snakes. Crocodiles. Being in a room with a group of people you've never met before. We're all afraid of something – but why?
This episode will dissect what makes us afraid and help us learn how to overcome our biggest fears.
Biologist Dane Trembath, from the Australian Museum Research Institute, will be joining the Arludo team to discuss his love of all things reptile, and investigate how we can tackle our fear of snakes.
We'll also be joined by Jodie Pestana a PhD student in Behavioural Neuroscience studying anxiety and its treatment post-motherhood, and Dr Corrie Ackland, a clinical psychologist from the Sydney Phobia Clinic.
Join in as the team uses Ritchie's Plank Experience and other VR games to explore how our bodies respond to fear and why Sophie isn't afraid of anything.
Episode 1: The Science of Gaming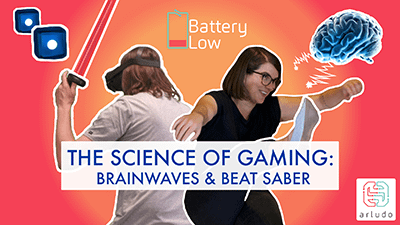 How does your brain behave when you play video games?
Games are more popular than ever before – gamers are even making a living playing video games. But what does it take to become a successful eSports athlete? In this episode, the Arludo team perform science experiments with athletes and games to learn about brain alpha waves and explore what our brains are doing when we play VR games like Beat Saber.
The hosts design an experiment and put it through the test through the Arludo app, Reaction Packed.
Join scientists on a fun-filled scientific exploration of what's happening in your brain while gaming!
Episode 2: The Science Behind Videogame Addiction
Have you ever sat down for a quick gaming session before bed, then looked up and realised you should have been in bed 4 hours ago?
In this episode Arludo investigate the science behind videogame addition and the clever tricks game designers use to keep you coming back for more.
Join the hosts as they chat with psychologists to better understand how games manipulate your brain, and how you can stay in control.